They are the main attraction of Benidorm and along which extends the city, leaning out to them is drunk with beautiful views, the temperature and sun that fall on them make them appetizing every day of the year.
The Q flags that wave in them announce the quality of them and a fine and soft sand makes them, if possible, even more pleasant. the beaches of Benidorm are one of the main charms that guards the city.
We have talked to you about plans to do in Benidorm as a family, how to move around Benidorm, we have discovered some of the neighborhoods (Rincon de Loix and La Cala) … And today we have to present the beaches of Benidorm. So that you can enjoy each one of them, we have prepared a complete guide for you.
But we want you to go further and discover other jewels that are hidden in the area, so you will also find recommendations to visit in its surroundings. Keep reading!
Benidorm Beaches
We start with the 3 beaches that will interest you the most: Poniente, Levante and Cala Mal Pas. We say that they are the ones you will be most interested in because they are the main beaches of the city, the most accessible, the ones with the most services, which you can reach on foot from anywhere in the city and where you can also enjoy a promenade full of atmosphere.
Levante Beach in Benidorm
Levante Beach is Benidorm's most internationally known beach. And this is due to the fact that along its 2 km length from Punta Pinet to Punta Canfali, there are countless restaurants, bars, pubs, terraces with live music and buildings around which the most international atmosphere of Benidorm is concentrated.
It is the beach with the most atmosphere and is well equipped, which you will enjoy small and large. Its orientation also makes it perfect for enjoying the sun from early morning until late afternoon.
In addition to the basic services (hammocks, umbrellas, footwash, catwalks or children's games), in Levante Beach you can do activities such as water skiing, diving or riding the famous "banana boat".
Poniente de Benidorm Beach
Poniente Beach is the beach with the longest length (3 km), amplitude and surface of sand in Benidorm. This makes it more spacious, quiet and with an important catalogue of services in its sand (beach library, shaded areas, sports games such as football goals or volleyball nets …).
It is the beach preferred by national tourists and extends from the city center to La Cala de Benidorm. This beach is also the one that will offer you the best sunsets.
Here you will find El Puerto de Benidorm, from where you will be able to make excursions to different points, being the preferred one the island of Benidorm.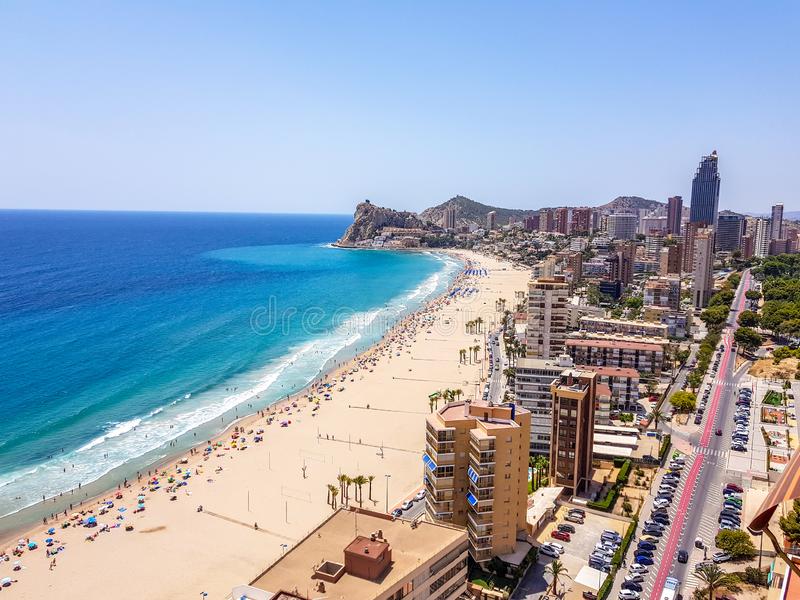 Cala Mal Pas in Benidorm
Separating Poniente and Levante is a small cove called Mal Pas. Its scarce 120m in length make this secluded beach the favorite beach for moms and dads.
to go with kids. In it you will enjoy the beautiful views offered by the Castle of Benidorm over the head and the island occupying the entire horizon. In addition, since 1987 this cove has had the blue flag, a mark of quality.
Coves Benidorm
But in addition to the main beaches, Benidorm hides two small treasures. At the foot of the Serra Gelada are Cala del Tío Ximo and Cala Almadrava. If you don't have a car, getting to them will be a little more complicated but we assure you that it will be worth it, even if it is a quick visit.
Coves in Benidorm: Cala Almadrava
La Cala Almadrava is a 100m long paradisiacal cove that will allow you to relax and enjoy the sea surrounded by nature. Transparent waters, fine sand, rocks, aquatic life … is preferred by many to practice diving and escape the hustle and bustle of the city.
Creeks in Benidorm: Cala Tio Ximo
Next to Cala Almadrava is Cala del Tío Ximo, another treasure that nature offers us. The smallest (only 60m long), the most rocky of all the beaches of Benidorm, surely the most spectacular and the only one in which nudism is authorized.
Beaches Near Benidorm
Benidorm's beaches offer everything you need to enjoy and relax during your holidays. However, we would like to encourage you to discover the beaches around the city. And as we also want you to find the one that best suits your needs, there go a couple more recommendations.
Beach with beach bar in Benidorm
Both Levante and Poniente beaches offer a wide range of bars, restaurants and supermarkets where you can eat and drink. But if you want to do it without moving from the same sand, we recommend visiting two beaches that are between Benidorm and Villajoyosa (the adjacent town): Playa El Torres and Playa Paradís. Both have a beach bar, are only 10 minutes drive from Benidorm and are very quiet.
Beach for dogs in Benidorm
Many do not conceive of their holidays without being accompanied by their animals. Luckily, in the province of Alicante there are more and more beaches where domestic pets are allowed. The closest beach to Benidorm is Playa Mar y Montaña, in Altea (adjacent village). It is a very quiet beach normally frequented by neighbors who want to go for a dip.
Nudist beach in Benidorm
If what you are looking for are nudist beaches, in Benidorm you have the Cala del Tío Ximo. However, in the Villajoyosa you will also find a beautiful cove that we would like to show you: Cala Racó Conill. It is a virgin beach, where tranquillity reigns and where enjoying the sea is a real pleasure.